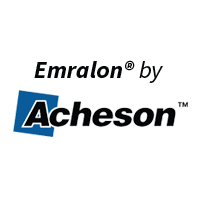 Emralon ® coating
---
The Emralon® product range consists of PTFE based dispersions, graphite and molybdenum bisulphide which act as a dry lubricant and provide excellent corrosion and solvent resistance as well as a low coefficient of friction. Emralon® dispersions have a wide range of curing temperatures, so they have applicable references in wood, rubber, all types of metals and a wide variety of plastics.
Properties and benefits of Emralon® coating
Thanks to their features, there are very few liquid or solid substances may stick to Emralon® coatings. It is generally applied in thickness ranges from 15-35 microns. They also have outstanding thermal properties, as they resist cryogenic temperatures below -250ºC and temperatures above 300ºC intermittently. The dielectric resistance levels are remarkable, as well as their resistance to friction wear, obtaining results of more than 1000 cycles in the Tabor abrasion test.
Typical applications for Emralon® products are:
Seat belt components
Vehicle Assembly Interior Parts
Carburettor axles
Mechanisms
Locksmith
Sliding guides or rails
Nautical equipment
Valve plugs
Parts of spray guns
Cutting and shearing blades
Screws
305
310
312
323
325
330
333
334
338
8370
GP 1904
TW-005U
TW-500
TW-501
TW-502
TW-503
TW-504
TW-511
TW-512
TW-520
TW-067G
TW-067LG
TW-020
TW-023HS
TW-040
TW-090
TW-098
TW-422
TW-437
TW-454
TW-467
TW-470
TW-475