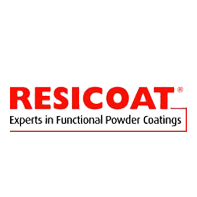 Resicoat ® coating
---
AkzoNobel's Resicoat® powder coatings are solvent-free paints that serve to protect coated parts in hostile environments. They offer superior performance with a lower environmental footprint as compared to their liquid counterparts.
The main advantages of these powder coatings compared to other alternatives in the market are that they are free of VOC or heavy metals in the coatings, have a global SMaRT environmental certification and incorporate the potential reduction in coating costs. They are used for corrosion protection in valves as well as for insulation and corrosion protection in electronic components, for example.
Properties of the Resicoat® coating
The Resicoat® range of powder coatings is applied to many industrial sectors, providing solutions such as:
Coating for electrical insulation
Resicoat® was first developed for electrical insulation in the late 1960s. Since then, these powder coatings have been evolving and improving for new ranges of dielectric applications. The Resicoat® EL series contains epoxy powder coatings for the insulation of rolling cells used in motors and for metal bars used in electrical distribution systems, as well as for the insulation of small components such as magnetic cores.
External and internal coating of pipes
Pipelines are energy highways. They are the most important means of transporting oil, natural gas, petrochemicals and water. It is important that pipelines operate safely and efficiently during their useful life. This is achieved by combining cathodic protection with protective coatings such as Resicoat®, avoiding high maintenance costs and possible environmental damage in the event of corrosion leaks.
Coating for corrugated rods
The Resicoat® RB range protects corrugated rods used to reinforce reinforced concrete structures from corrosion. Resicoat® RB is available in both flexible and non-flexible versions, complying with ASTM A775 standard and US DOT's certification.
Coating for valves and fittings
The Resicoat R4 series offers a range of epoxy powders for these applications with worldwide drinking water approvals and certifications for gas and biogas applications. Valve coatings must be resistant under a wide range of temperature and environmental conditions. The Resicoat R4 series provides a completely sealed and porosity free surface, preventing corrosion and reducing friction between the conveyed medium and the connection, avoiding incrustations by salts or organic materials.
HLF59R EL
HLG03R EL201
HKF97R EL3
HGC20R EL
HNE06R EL4
HKE03R e-lock
HNE03R e-lock
HNH04R EL1
HLF04R R-726
HKF70R R-726A
HDF01R R-726LAT
HKF58R R-735LD
HLF76R R-726A
HLF75R R-735LD
HKF30R RB-600
HEF06R R4-ES / ca. RAL 1023GL
HGF03R R4-ES / ca. RAL 3011GL
HGF10R R4-ES / redbrown
HGF14R R4-ES / ca. RAL 3000
HGF17R R4-ES / rust red
HJF01R R4-ES / ca. RAL 5005
HJF10R R4-ES / ca. RAL 5017
HJF13R R4-ES
HJF14R R4-ES / ca. RAL 5015
HJF19R R4-ES / ca. RAL 5010GL
HJF22R R4-ES / ca. RAL 5015GL
HJF23R R4-ES / ca. RAL 5003
HJF24R R4-ES / ca. RAL 5013GL
HJF26R R4-ES / ca. RAL 5005
HJF42R R4-ES / blue
HKF47R R4-ES / green
HNF04R R4-ES / ca. RAL 9005
HGH02R R4-ES / redbrown
HEC01R R4-FB / ca. RAL 1023GL
HGC07R R4-FB / redbrown
HGC17R R4-FB / redbrown
HJC06R R4-FB / ca. RAL 5005
HJC08R R4-FB / ca. RAL 5017
HKC71R R4-FB / green
HNC01R R4-FB / black