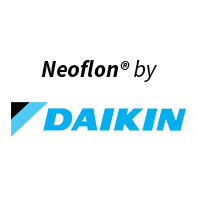 Neoflon ® coating
---
Neoflon® is the brand used by Daikin to market its fluoropolymers. These products are mainly used in the automotive, aviation, semiconductor, information technology industries and for household objects and appliances due to their non-stick properties and low friction coefficient, as well as their good thermal and chemical resistance and electrical properties as compared to other polymers.
Neoflon® includes a wide array of products and each one is a derivative of PTFE or polytetrafluoroethylene:
Neoflon® PFA or perfluoroalcoxy is a tetrafluoroethylene and perfluoroalkyl vinyl ether copolymer. It is a perfluoropolymer formed only by carbon and fluorine atoms with no nitrogen atoms. It offers the same benefits as PTFE at a wide range of temperatures, and also has excellence transparency and high mechanical force at high temperatures.
Neoflon® FEP is a perfluorinated tetrafluoroethylene and hexafluoroethylene copolymer. Like PTFE, it has excellent electrical properties, since FEP is formed only by fluorine and carbon atoms. It has the same chemical and mechanical resistance as PFA but is less resistant to high temperatures than PFA.
Neoflon® PCTFE forms an excellent gas barrier, above all due to its low humidity and vapour permeation as compared to other plastics. It has less resistance to high temperatures and chemical agents than PFA and FEP but its mechanical properties are superior (especially its hardness).
Neoflon® CPT is a new fluoropolymer with excellent sealing properties as compared to organic solvents and very active acids such as HF, HCl and HNO3. It is designed to adhere to other plastics.
Neoflon® ETFE is a tetrafluoroethylene and ethylene copolymer with the lowest specific gravity of all fluoropolymers. It has higher fusion and mechanical properties as compared to PTFE and FEP, and also has good electrical and chemical properties. It is suitable for applications that require mechanical hardness, chemical resistance, resistance to high temperatures and electrical properties.
Neoflon® EFEP is a new fluoropolymer with the capacity to adhere to materials other than existing non-stick fluoropolymers. It also has the same chemical resistance as other fluoropolymers. It is more transparent that traditional fluoropolymers, and according to Daikin, it is the next generation of materials that will extend the possibilities of fluoropolymer applications.
FEP NC-1500
FEP NC-1511
FEP NC-1515
FEP NC-1519
FEP NC-1539N
FEP NCX-1
FEP NCX-11
EFEP RC-4520
ETFE EC-6510
ETFE EC-6511
ETFE EC-6515
ETFE EC-6516
ETFE EC-6519
ETFE EC-6820
ETFE EPW-1606BL
ETFE EPW-1609BK
PFA AC-5539
PFA AC-5600
PFA AC-5820
PFA AC-5830
PFA AC-5840
PFA ACX-21
PFA ACX-31
PFA ACX-34
PFA ACX-41