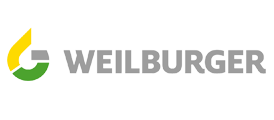 Weilburger coatings
---
Weilburger was founded in 1900 and continues to operate as a medium-sized Germany company with an international scope. It has 11 production plants and 8 distribution warehouses in 4 continents.
It is currently a developer and manufacturer of coatings for use in industry and consumer goods and of special coatings and varnishes for the graphic industry.
The +COATINGS industrial coatings business unit offers coatings for use on many surfaces, depending on the purpose of the finish, from metal to wood, and including plastic, glass or aluminium foil.
This business unit markets the iconic brands: Senorail® for the automotive industry, Senotherm® and Greblon®.
Senotherm® is the brand used by Weilburger to market its range of coating systems specially designed to withstand temperatures up to 600°C. It is used above all in chimneys, smokehouses, barbecues, grills, plate warmers, etc. There are three versions: classic, solvent-based and water-based.
Greblon® is the brand used by Weilburger to market its non-stick coatings for kitchenware and the food industry.
The other business unit for the graphic sector +GRAPHICS offers finishes applied by spraying, lacquers resistant to UV radiation, oil-based varnishes, printing inks and products for use in packaging in the food industry.