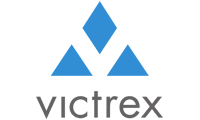 Victrex coatings
---
Victrex plc is a global manufacturer of innovative, high performance materials with production facilities based in the UK and supported by sales and distribution centres in over 30 countries worldwide. Victrex offers state-of-the-art polymer solutions based on PEEK (polyetheretherketone, semi-crystalline thermoplastic technical polymer) and PAEK (polyarileterketone, semi-crystalline thermoplastic, high performance aromatic polyketone solutions). With more than 35 years of experience, Victrex supplies a wide range of markets such as aerospace, automotive and electronics to energy sectors, medical and industrial industries.
Its innovative lightweight material solutions replace metals and other polymers, providing increased service life, performance and reliability in extreme environments.
Among the products in its portfolio, there are innovative solutions such as APTIV films, which incorporate all the properties of VICTREX PEEK polymer in a thin film format, VICTREX pipes and VICOTE coatings.
VICTREX PEEK is a high performance engineering thermoplastic in demanding environments that is up to 70% lighter than metals.
The properties of its products include the following:
resistance to abrasive chemicals
hydrolysis resistance
mechanical strength and dimensional stability
high wear resistance
high temperature performance
high electrical integrity
Among its products we highlight the VICOTE™ ecological coatings, whose main ingredient is the VICTREX PEEK polymer: