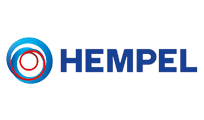 Hempel coatings
---
Hempel is an important paint and coatings manufacturer founded in 1915. Thanks to its wide experience in the naval sector, it has anti-corrosive products that are able to protect virtually any steel structure. Due to its important investments in R&D, its anti-corrosive products are used in a wide range of industries, including the naval and industrial sectors. Industrial sectors include energy, chemical and petrochemical plants.
Thanks to its high investments in R&D, Hempel's coatings are based on advanced technology and able to provide protection from corrosion for surfaces in different environments where corrosion is present, for instance, in environments with high levels of chemical pollution. Their long-term efficiency has been proved.
Thanks to this modern technology, the application of anti-corrosive primers is carried out in diverse sectors:
Gas and oil
The gas and oil prospecting, production and distribution sector requires high performance coatings. They offer full anti-corrosion protection, even in the most adverse conditions.
Chemical plants
Its experience in this demanding sector means it can personalise each coating, applying the best anti-corrosive coating to suit the needs of each client.
Energy
The high technology of the energy sector requires coatings that guarantee optimum operation. Its coatings are applied in sectors such as nuclear energy and the relatively new wind energy sector, where the company has experience and offers special coatings for wind turbine components.
Infrastructure
The infrastructure sector requires surface protection. Hempel coatings provide protection for port machinery, bridges, motorways and construction projects.
Its products include the Avantguard coating, with advanced zinc technology, which offers excellent anti-corrosion properties, improving paint systems, protection, productivity and the durability of the coating.