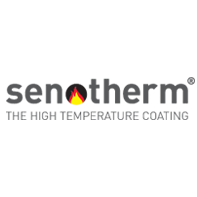 Senotherm ® coating
---
Senotherm® is the Weilburger brand under which high temperature resistant coating solutions are marketed, for all types of surfaces subject to high thermal loads such as:
stoves
stove ducts
spurts
cook stoves and hobs
barbecue and grills
and in the technical sector, functional parts
In terms of technology, Senotherm® sets standards to lead the European market. More than 40 years of experience in this specialized area, continuous R&D work and the resulting innovations have made Senotherm® a unique range of coating systems that meet market requirements. Senotherm® is simply the best solution for every stove and all types of domestic fire resistant components.
The quality of Senotherm® is proven and widely approved. As a novelty, the Non-Smoker® range is available.
Properties of Senotherm® coating
With its Non-Smoker® coatings, Senotherm® makes the oven stop smoking. The UHT and UHT HYDRO product ranges offer a variety of coating solutions that prevent the development of smoke and odour during first use by the customer and reduce the formation of contaminants (such as VOCs) to a minimum.
Unlike conventional coating systems, where the final drying takes place at temperatures above 200 °C, Senotherm® Non-Smoker® coatings harden completely at room temperature. Customers can enjoy their stoves uninterrupted from the beginning and will no longer be affected by the development of smoke and odour in the first use.
Advantages of Non-Smoker® coatings
No annoying smoke or smell for the end customer
Final hardening already takes place at room temperature (18-23°C)
Sustainable coating for the increasing health and environmental awareness of end customers
Much more robust for transport and final assembly
The hard task of having to dispose separately of the hardened spray is no longer necessary and it can be disposed of through commercial waste considered banal
1030 CLASSIC
1666 CLASSIC
1664 CLASSIC
1111 CLASSIC
1155 UHT
1157 UHT
3590 UHT-HYDRO
2860 UHT-HYDRO