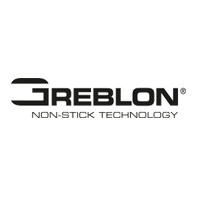 Greblon ® coating
---
Greblon® is the brand used by Weilburger to market its fluoropolymer, polymer and sol-gel technology coating system solutions. It includes non stick coatings resistant to high temperatures, functional coatings and outdoor decorative coatings for both household items and industrial products. They are made up of PTFE and ceramic coatings.
Greblon ® product sectors
Greblon® has 5 different product lines, depending on the end product:
Kitchenware sector: For this market Greblon® offers non stick PTFE and ceramic coatings from one to three layers with a reinforcement layer formed by ceramic particles for frying pans, pots, etc.
Small household appliances: The appliance treated with Greblon® are coated with PTFE in either a single or a double layer with ceramic reinforcement for greater resistance to abrasion and high temperatures. It is applied to elements for everyday use such as grills, hair straighteners, sandwich toasters, etc.
Bakeware: The coatings used for baking tins are PTFE-based fluoropolymers. They are applied as a single layer or a double layer reinforced with ceramic. Non-stick coatings are recommended in particular for doughs with a high sugar content used to make cakes, tarts, rolling dough, fruit cakes, muffins, etc.
Technical tools: Greblon® is applied as a functional coating to tools and parts such as blades, rollers, etc. to guarantee the optimal operation of the tools for long periods of time.
Decorative coatings: Greblon® decorative coatings and finishes are used to customise household items and appliances and make them more attractive, with special colours and tones for each manufacturer. These coatings are based on fluoropolymers, silicone polyesters and sol-gel technology which offer all the benefits of functional coatings.
C3
C3+
C3+ PEEK
E2+
E2
E1
EK2