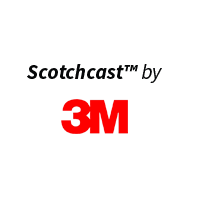 Scotchcast ™ coating
---
Scotchcast™ 3M Electrical Resin is a widely used and well-known product, a general-purpose, fast curing epoxy resin, engineered to provide a continuous dielectric coating that is moisture resistant and chemical resistant for a wide variety of substrates. The Scotchcast™ coating is a powder resin used to coat flat surfaces, corners and complicated geometries, applicable with electrostatic spraying, fluid bed immersion and venturi spraying.
The components that are coated with Scotchcast™ are:
Stators
Distribution bars
Electrical components
UL certified, EIS approved and RoHS 2011/65 / EU compliant.
Properties of Scotchcast™ coating
This general-purpose epoxy-based powder resin has a very low viscosity property, which facilitates infusion on any surface. The resin melts when heated, flows in a controlled manner and then cures, adhering to the surface as a uniform coating.
The main properties of Scotchcast™ products are:
Fast curing
Low gelation point due to low viscosity
Excellent electrical properties
Excellent resistance to thermal shock, resists temperatures of 180ºC
Excellent impact resistance
Excellent resistance to heat, chemistry and humidity
Good cut resistance
Excellent flow
Electrical Resin 260
Electrical Resin 262
Electrical Resin 265
Electrical Resin 281
Electrical Resin 2123
Electrical Resin 2131
Electrical Resin 2140
Electrical Resin 5133
Electrical Resin 5136N
Electrical Resin 5230N
Electrical Resin 5400
Electrical Resin 5555