Retansa Coat premises, which has been stablished in Jundiz industrial park in Vitoria, have been delivering the best service to their customers since 2006. The application of coatings, mostly fluorinated coatings, depend on the requirements and features of each job, with a thickness range from 20 to 50 microns, although more demanding sectors such as chemical and petrochemical, need coatings with higher resistance to corrosion with thickness up to 0,5-1mm. These coatings have high non-stick properties, a low coefficient of friction and a high resistance to corrosion.
Our full dedication to non-stick and anticorrosive coatings for industrial sectors, especially automotive and cookware, together with our tailored service to customers, have led us to expand our premises.
Enlargement of premises for technical coating application
In order to expand production capacity and keep delivering a high-quality service, we have acquired a second premise with 2000m2, investing in new equipments for all production areas:
Surface treatment area: two new rotary sandblasting machines, one continuous machine and a new 50m2gritblasting room
Coating application area: a new 25m2 paint booth for big parts to meet rising demand of non-stick coating sector
Two high-capacity static ovens: they allow to speed up delivery times and allow to coat parts of up to 8 metre long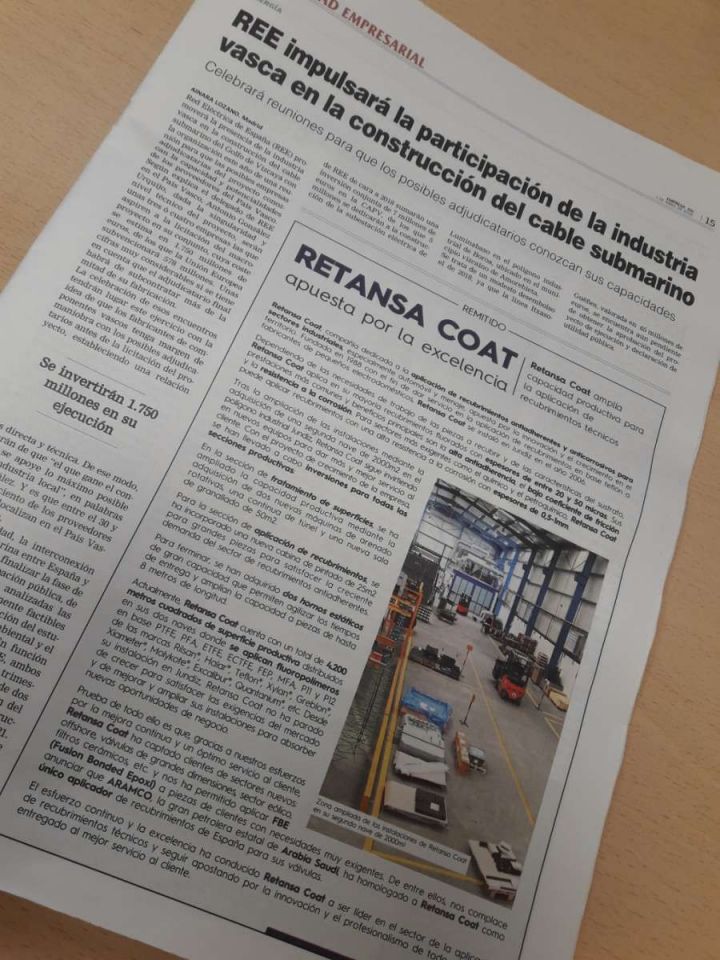 Continuous improvement in customer service
With this new acquisition Retansa Coat has 4.200 square metres of productive surface to apply PTFE, PFA, ETFE, ECTFE, FEP, MFA, P11 and P12 based fluoropolymers from the main raw material trademarks such as:
Rilsan®
Halar®
Teflon®
Xylan®
Greblon®
Xiameter®
Molykote®
Excalibur®
Quantanium®
Thanks to these efforts, Retansa Coat has gained customers from new sectors: offshore, valves of big dimensions, wind power sector and ceramic filters, allowing to apply FBE (Fusion Bonded Epoxi) on parts from customers with very demanding requirements. Among them, ARAMCO, the state-owned oil company of Saudi Arabia, has approved Retansa Coat as the sole coating applicator in Spain for their valves.
Our aim is to meet the market needs and enhance and expand our premises to get new business opportunities and deliver the best service to customers through the application of technical coatings.