The publication for automotive professionals requested the cooperation of Coatresa Grup
Thanks to our expertise applying technical coatings within the automotive industry, COATRESA Grup has had the chance to cooperate with AUTOREVISTA, a professional publication on automotive industry, for corporate professionals of this sector.
On last June's 2019 edition, AUTOREVISTA trusted COATRESA Grup within their section "more sustainable paints and coatings" so to expose the benefits and improvements technical antiadherent, anticorrosive or dry lubrication coatings suppose not only for the automotive production process but also for a great performance on vehicle parts.
Thanks to the properties of fluorinated coatings, we can help the cleaning process in painting areas, avoiding other cleaning processes that can be far more aggressive to the environment, such as pyrolysis or chemical cleaning.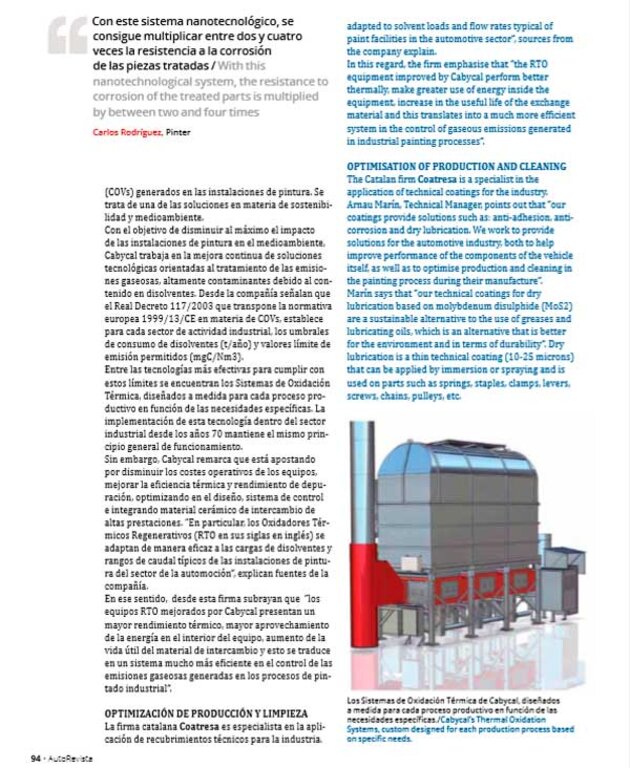 Greater performance and fewer environmental imprint for automotive
As an environmentally aware company, we recommend that whenever possible all oils and greases shall be avoided and substituted by dry lubrication coatings, far more environmentally friendly and with a great mid and long-term result. AUTOREVISTA echoed the benefits and improvements that technical antiadherent, anticorrosive and dry lubrication coatings can provide for the automotive industry, and from COATRESA Grup we keep on providing our experience and knowledge not only for the automotive sector, but also for the rest of the industry where our technical coatings can suppose a benefit.