Solvay coatings
---
Solvay is a multinational that manufactured advanced materials set up in 1863 by Ernest Solvay. It is based in Brussels and has more than 400 plants in 61 countries. It is currently a listed company and the leader in its market.
Its extensive product diversification allows it to supply many markets such as the food, automotive, aerospace, construction, electronics, sanitary and environment industries, among others.
As part of its chemicals business unit, the company has a special polymers category that includes well-known fluoropolymers such as Hylar®, Hyflon®, Algoflon® and Polymist®, in addition to its most popular brand: Halar®.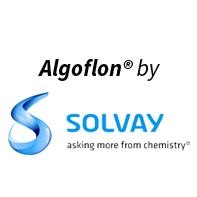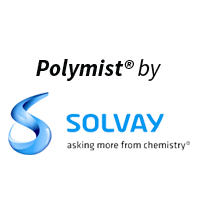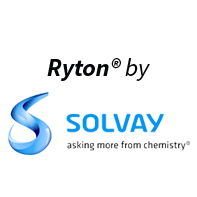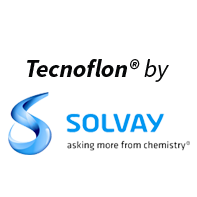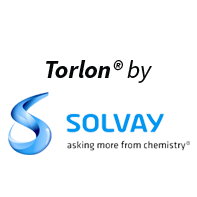 Hylar® is a polyvinylidene fluoride (PVDF) with the characteristic stability of a fluoropolymer when exposed to extreme conditions. It is resistant to chemical agents and UV radiation.
Hyflon® is supplied in two versions: PFA (perfluoroalkoxy) and MFA®. They are fluoropolymers that offer the highest chemical and thermal resistance of all those that exist. They are supplied in the form of powder and water-based dispersions and used in a wide range of industries.
The Solvay polytetrafluoroethylene (PTFE) range includes Algoflon®, a chemically-insert substance with high thermal resistance, a very low friction coefficient and excellent non-stick properties. It is supplied in different application formats, depending on the application and end use. Algoflon® and Polymist®, both with a PTFE base, are supplied in the form of micronised powder dispersions and used above all as additives for other materials, making them resistant to abrasion and friction and also giving them non-stick and lubrication properties.
Algoflon® references
D 1610 F
D 1614 F
D 2512 F
D 2711 F
D 3511 F
Hyflon® references
MFA® 1041
MFA® F1540
PFA 125X
PFA M620
PFA M640
PFA P450
PFA F1520
Hylar® references
301F
5000
5000 HG
KetaSpire® references
KT-880P
KT-880SFP
KT-880UFP
Ryton® references
r4-200
r4-230
r4-220
br111
r7-220
br42
r7-120
V-1
Tecnoflon® references
PFR 94
PFR 06HC
Torlon® references
AI-10
AI-30